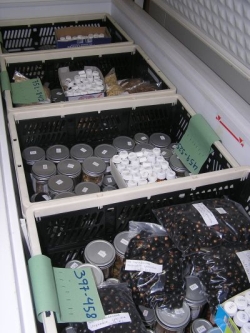 Seed bank
The Garden, besides hosting a natural and cultivated vegetation of high diversity, has evolved to a natural habitat and an ideal refuge for the local fauna protected against the consequences of the human activities. Eventually a well-elaborated and particularly stable food web has been established.
Undoubtedly the presence of the garden aesthetically improves the surrounding urban area being an isle of «breath» and «tranquility» for the western part of the Athens metropolitan area. At the same time it offers an educational field for institutes of primary or secondary education and a research field for the Biology Department of the University of Athens and the Agricultural University.
The staff of the Garden is experienced and of high scientific background on conservation and reproduction of rare, threatened and endemic plant species of the Hellenic Flora. More than 12.000 dried plant specimens are preserved at the Herbarium, most of them originating from areas protected by the «NATURA 2000» project, while seeds of more than 800 plant species are kept at the Seed Bank of the garden, some of them available for exchange with other gardens. A seed list is released biannually improving collaboration with other gardens for mutual enrichment of the cultivated species.
The Garden is a member of Botanic Garden Conservation International (BGCI). We have recently updated our seed bank database according to the new International Plant Exchange Network (IPEN) code system, a system that let us know the collection time and origin of any genetic material being exchanged within the Network.
The main goal of the Institute is the establishment of a new section hosting all the endemic, rare and endangered plant species of the Hellenic flora.
An important contribution of the Garden Institute is the awareness of the public to subjects as the conservation of the environment, the protection of rare and endangered species etc. This is mainly accomplished through admitting and guiding in the garden area numerous educational institutes (primary schools, high schools, technological schools etc). More than 200 educational institutes visit the garden annually.
We would like to point out that there is a possibility of organized and guided tour