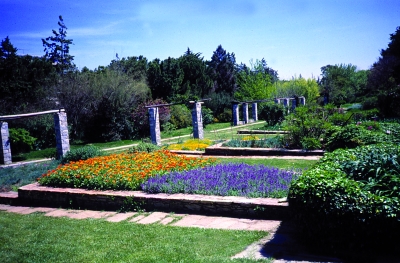 View of the ornamental plants section
Next to the historic plant section, walking eastwards, the visitor may approach the section of the Ornamental Plants consisting of 15 large flowerbeds and 25 pools.
Various annual and perennial species are planted in the flowerbeds. The visitor will become familiar with some of the perennial species all year round. Among them is Cotoneaster spp., Salvia spp. and Achillea spp. (milfoil). Other species flourish only during summer - Canna spp., Paeonia spp. (peonies), Iris spp., Aster spp. and Dahlia x pinnata - or winter-time (Magnolia stellata, Chimonanthes fragrans, Narcissus spp., Ranunculus asiaticus and Hyacinthus orientalis).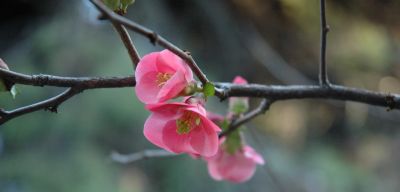 Chaenomeles (Cydonia) japonica
There is also a flowerbed in which more than 100 aromatic varieties of Rosa are planted.
Besides the flowerbeds, there are numbers of cultivated ornamental trees and shrubs like Magnolia grandiflora, Acacia farnesiana, Retama monosperma, Ginkgo biloba, Cycas revoluta, Liquidambar orientalis, Prunus cerasifera var. pisardii, Polygala myrtifolia, Cupressus arizonica and Chaenomeles japomica.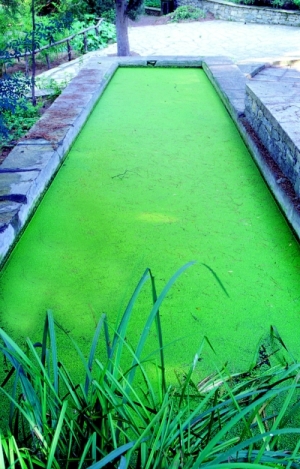 Lemna minor (duckweed)
Along the main path of this section, several impressive climbing species of Bignonia, Lonicera (honeysuckles), Passiflora, Clematis, Aristolochia, Jasminum (jasmines), Rosa (roses) and Wisteria sinensis are growing.
Finally, a lot of aquatic and hydrophilic species of global interest grow in the continually flowing water of the 25 pools.
The visitor may observe millions of the tiny individuals of Lemna minor (duckweed) covering the surface of the water, Iris pseudacorus, the water lily Nymphaea spp., the extremely beautiful Nuphar luteum and the beautiful huge flowers of Nelumbo spp.